Exemples of influencer marketing
Many companies already noticed the significance of influencer marketing in their business. Brands establish and nurture a relationship with the main influencers in their market, driving the audience that follows them to a positive purchase decision.
The relationship makes use of a few fuels that come from online communication, such as the relevant content production directed at influencers, sharing the content they make and acknowledgement of the authority they have, and others. There are several cases of brands that were successful using such strategy. Let's mention a few of them to understand how a campaign with creators works.
Examples of influencer marketing
1- Sérgio Rocha and Adidas
Sérgio Rocha is a journalist who loves running, a sport he has been practicing for 19 years. A frequent participant in street competitions, he usually shares his experiences and knowledge about the subject. In 2013, he decided to create the channel Corrida no Ar, where he shares tips about running, reviews shoes, talks about news, covers competitions, events, and other activities.
His enterprise quickly generated a good outcome and grew quickly. In a short time, a few brands started to show interest, noticing there was an opportunity to work with Sérgio Rocha. Months later, Adidas, German sports gear company, considered one of the largest in the field, decided to contact him for a campaign partnership, using influencer marketing.
The deal
After the deal was done, the influencer didn't change the way he communicates with the audience in any way. He just started giving more information about Adidas's products, such as sports gear and events he would get from the brand.
Regardless of the partnership, at no point whatsoever did the brand influence him in his content creation freedom, even so that the message would not have a publicity nature. Also, Sérgio even mentioned a situation when he criticized one of Adidas's products.
"I had to review some shoes they were going to release, and it was good because I had time to test it before the launch. When it was released, the product was very expensive, costed about R$1000 and I gave it a 2 out of 5. And then, when I met an Adidas guy, at an event during the Olympic Games, he told me he was happy when I gave it a low score, because it really showed that I had an honest relationship with the brand."
The natural influencer marketing strategy became a paid deal with the influencer. As Sérgio said, Adidas started to help him with his posts and routine tasks.
"The relationship I have with Adidas is something surreal, because it is a business relationship and friendship at the same time. Adidas always walked together with athletes, giving gear to people, and getting together with them, having a friendship relation."
The outcome
As was expected, Sérgio became an influencer in his niche. His channel was already established, with tips and recommendations of sports gear, especially clothing and shoes, also mentioning Adidas's competitors (check it out at the video below). The relationship of Sérgio with the brand generated such a huge affinity that it brought both of them benefits in the influencer marketing.

The channel Corrida no Ar got more visibility for being mentioned in online promotions by Adidas and more frequent content. Nowadays, it is the biggest channel specialized in running in Portuguese on YouTube. With Adidas's trigger, it grew 163% in number of subscribers in 2016.
Hear the Podcast on the case. To listen to it, just click the player below:
2- Jout Jout and Canal Brasil
The brand
Brazilian paid TV channel, Canal Brasil was released on September 18, 1998 as an alternative to a decree that forced all cable television service providers to add to their program at least one channel dedicated to Brazilian and independent film and audiovisual productions.
An association between Globosat and Grupo Consórcio Brasil, the channel, despite what one may figure, has no political affiliation, just the commitment to highlight Brazilian productions with high social relevance.
The influencer
YouTuber Julia Tolezano, most known as Jout Jout, is one of the most relevant digital influencers in the last few years. Charismatic, intelligent and with funny and empathic videos, she raises reflections on several topics, from pop music to feminist topics, from reflections to the daily life to relationship dynamics.
From Niterói, Rio de Janeiro, the journalist graduated owns channel Jout Jout Prazer, with over 1 million subscribers on YouTube. Since 2014, she stands out with videos that challenge the standards through humor, such as "Não tire o batom vermelho (do not remove the red lipstick)", "Vamos fazer um escândalo (let´s make a scene)" and "Como destruir relacionamentos (how to destroy relationships)". For her relevance, several brands approach the YouTuber for long or specific promotions.
The influencer's activities
For the promotion of Mostra Cine-Delas, the journalist posted the video "Acho Coerente (I find it coherent)" on January 19 this year, in which she starts the influencer marketing by talking about the relevance of promoting projects with which she really connects with and presents the show, time schedules, her listing, and finishes talking about Canal Brasil itself.
Strategy scenario
Canal Brasil, aligned with its content profile, released Mostra Cine-Delas in 2017 with national cinema, national movies exhibited weekly and that, as a differential, were directed by women. The show had the goal to promote Brazilian cinema, with awarded titles and great relevance, and the feminine participation in the industry at the same time.
For that, the brand needed the promotion to be carried out by someone who would speak with the objective, who had a bond with the culture and the causes behind it. Then, Jout Jout, digital creator involved with feminist and cultural topics, would be a great spokesperson for the project.
First contact
Just like many brands seek out the journalist for merchandising, the channel proposed the promotion of the project based on the relevance of the cinema show and its promotion. Jout Jout made a point of mentioning how much she had a connection with the project, and how important it would be if publicity proposals would really be more aligned with the influencer's profile.
The amount paid for that influencer marketing wasn't disclosed, but it is paid since it constitutes merchandising. The promotion was focused on a single action, with the show already being broadcast, but in time to generate results for the brand.
Results
The video was entirely dedicated to the show, with 6 minutes and 32 seconds. In the already known format of the content produced by Jout Jout and until February this year, it already had over 260,000 views. It generated a lot of visibility for the channel and for the project, that will still be on air during March and April in 2017.
3- TD Ameritrade
In 2016, TD Ameritrade decided it was the moment to get the audience's affinity. On the assessment of their own marketing director, Kelly Caffrey, financial services are not accepted by the public in general. With the idea of turning it around and change that perception, the company released the "Human Finance Project" campaign. They created a relationship with over a hundred regular people who would usually use their social networks to talk about finances.
Consequently, they spread the TD Ameritrade message through their networks, triggering shares in an almost viral effect. And the most interest part: they didn't receive a single cent for doing it. That is another advantage of small influencers. Many time, companies don't pay anything to be effective in their influencer marketing campaign. The strategy brought benefits. There were over 160 videos made and shared since the beginning of the project.
Brand awareness: news related to the brand increased over 5% in February 2016 and continued during the following weeks, reaching the target audience.
Results:
Published videos: 160.
Posted photos: 60.
Social engagement: over 200 people interacted with the project on social networks using #HumanFinanceProject since February 2016.
Website views: website traffic increased by over 62%.
Digital media engagement: Average CTR increased by over 300% with the launch of assets from Human Finance Project in the market. 
Incoming calls: since the launch of Human Finance Project, the total incoming calls percentage increased by almost 70%.
4- Ford
The idea of micro-influencers didn't come up just now. In 2010, for instance, Ford did an action that became quite well known. The American multinational automobile maker gave 100 consumers one of their cars for six months. The goal was for each of these individuals to complete a different mission every month. And there they went. Each one of them with their imagination and using their Fiesta to complete their tasks. The videos were split in chapters and are still available on YouTube.
"While they were trying to create emotion and awareness for the vehicle with the Fiesta Movement campaign, there was something bigger going on here. We told them to be completely honest, because that was the only way this was going to work. We didn't tell them what to do, nor did we censor or edit any content", said Scott Monty, chief of Ford's social media, highlighting even more the importance of giving freedom of content creation in influencer marketing campaigns.
The effects of the campaign were outstanding. The Fiesta video got over 6.5 million views on YouTube and 50,000 information requests about the car – nearly none of those people had a Ford in their garage before. Ford sold 10,000 units in the first six days of sales. Results came with a relatively small cost. The "Fiesta Movement" became known as one of the cheapest campaigns comparing to typical TV ads.
5- Old Spice
Men are increasingly becoming more concerned with their appearance. With that, they seek personal hygiene products, such as shavers, deodorants, creams, thus increasing the competition between brands that sell men's articles.
Noticing that spike in the market, which generated a revenue of US$21.4 billions in 2016 worldwide, Old Spice, main manufacturer of antiperspirants, decided to go back to its performance roots with the release of their most recent collection: "Hardest Working".
To amplify the release of this new line of products with the demonstration to the target audience – men aged 18 to 40 – Old Spice decided to activate micro-influencers as the driving force behind this new promotion. People just wrote about or shared things related to the brand's products.
The outcome was the best possible. With this army of small influencers, Old Spice surpassed all goals set before the campaign, generating 4.5 million impressions and 14,000 engagements (respectively 226% and 108% of their original goals).
6- Pedrigree
In Brazil, Pedigree is one of the examples of influencer marketing. The company wanted to humanize their brand by defending a cause. That was an excellent move, considering that 90% of consumers expressed their wishes to switch to a brand that is associated to a positive cause, according to a study conducted by Cone Communications.
Pedigree started their campaign "Buy a bag, give a bowl" to support a national effort and expand it with the help of influencers. Creators then promoted a campaign through content in their social networks, with posts and videos.
Influencers like Kristyn Cole helped promoted the brand on Instagram, sharing exciting stories about their pets to get their followers' attention through emotion. They encouraged their followers to buy a Pedigree bag at Sam's Club, and they would give for free a bowl of food to a dog in need for each bag bought at the store.
The idea earned them more than expected and increased the total brand's market media value. It generated over 43 million impressions and almost 63,000 content views. The company also led to 9,300 people engaged in the blog and helped Pedigree to win their target audience.
7- Coca-Cola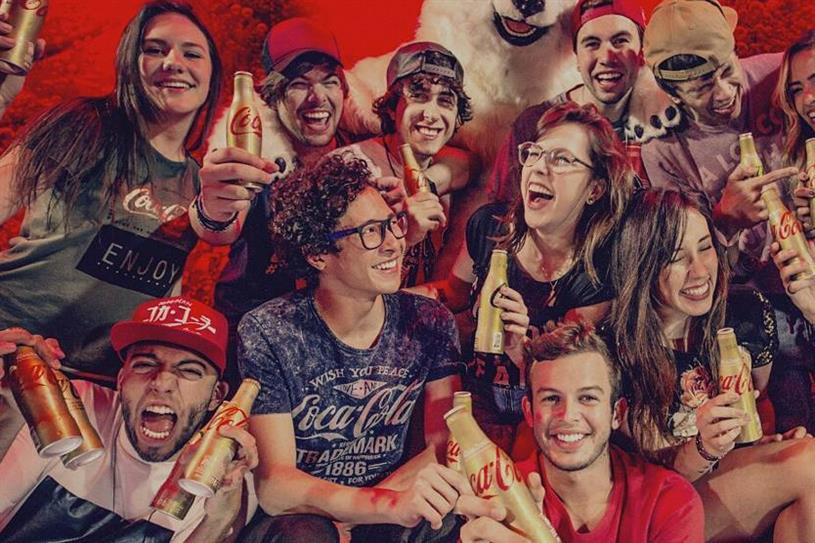 Companies big and small are getting more success in this media. Another giant that was successful was Coca-Cola. The biggest social network campaign in history made by the brand was done entirely through influencers for the Olympic Games in 2016 – they also created their own influencer character, The Bear, who currently has over 190,000 followers on Instagram.
The action worked out really well! Since July 13, weeks before the start of the Olympic Games, the Coca-Cola campaign reached over 21 million teenagers (or 77% of the teenager population in Brazil) and 90% of those teenagers were affected on mobile. The brand also generated 30 million views of videos in the entire campaign content during that period, according to Coca-Cola.
8 – Danio
"Naked" agency created a significant campaign for the petit suisse maker, Danio. The goal is to offer yogurt for the person who'd scream the loudest when hungry during afternoon snack time. As part of the campaign, Naked worked with a series of influencers in the social network platforms, who encouraged their fans to leave #HungerCry in the streets. Together with the digital campaign, an interactive element outdoors specifically tailored was developed with Anarchy LTD – an automatic voice sales machine that gives yogurt to their consumers in exchange for their hunger cry.
Challenging the typical petit suisse brand, Danio identified a gap in the Market with male consumers. "No yogurt is clearly targeted at men", explains Niccolo Rigo, Strategy Director of Naked in Europe, "although they can represent up to 40% of yogurt consumers".
The person who would manage to scream and reach the highest volume, established by the equipment, would get a Danino. The cries would get other people's attention, who would film it and post in their social networks. The product lovers would indicate it to their friends and the campaign went viral.
Results:
Audience members shared 400 videos of the "Hunger Cry" campaign, which resulted in 5 million views.
Facebook videos had an outcome of 3.3 million views.
Return on investment was R$405 to each 1,000 views on Facebook compared to an average of R$146 per 1,000 views on Facebook on paid media.
The total campaign effect was an average increase by 12% in sales of Danio yogurt.
9- Cision
For influencer marketing to be efficient, it is important to consider several aspects when defining who is the correct influencer for each brand. But it is worth the effort. Cision states that, through that work, they managed to accomplish media and social network lifting, a bigger client retention and crisis mitigation. After several actions performed, the following were some of the numbers disclosed by the company:
Live event presence
In the company's annual conference, when identifying and engaging with a key influencer group together with a group of speakers with content related to the event, the company generated, among others:
– 157% of growth in online mentions about the conference in comparison with the previous year;
– 1528% of growth in reach thanks to the influencers' engagement;
– 4900% of growth in views of the brand's online content (photos and videos);
– 106% of growth in the conference's website traffic in comparison with the previous year;
– 181% of growth in media coverage in comparison with the previous year – 31 unique media pieces made by or influenced by influencers;
– Over 1,000 new followers on social networks in 3 days;
Reach in the product release
Cision also bet on influencers to generate more earned media during the launch of their products. During the week prior to the release, the company sends the product to selected influencers, however, not asking them to write something positive on the social networks. That should come naturally. The result was an increase by 300% of interaction on the internet with the brand's products and services. That brings new customers in an organic way.
Brand awareness
An action made by Cision had the goal to thank influencers who contributed to the brand through out the year before. After sending gifts to all influencers, the campaign resulted in exposition of a positive image of the company for over 74,000 people, 63% more people talking about it on several channels and 12 posts generated the year before from important sources such as Forbes and Inc.
Client retention
After years actively engaging influencers without asking for anything in return, Cision created a group of brand defenders. A case used as an example is from a customer that was speaking negatively about the brand in a closed group on Facebook, when one of the influencers brought this to the brand's attention so contact could be made, and the problem solved. This is just an example of how to have different influencers advocating for your brand on several areas of the network – to which you don't have access – can make a huge difference.
Crisis communication
Engaging influencers throughout the years with influencer marketing has helped the company to create effective ways to solve certain crisis. Even without the company asking for it, many times influencers put themselves ahead of an online discussion to defend Cision. With each of them with solid versions (since they are true) to tell about the brand, discussions were mitigated and solved.
The subject was covered in the Podcast, which aired on Wednesday, September 13. In case you missed it, you can listen to the recorded version by clicking the player below.